Generate income with the options wheel strategy
February 4, 2019 • 3 min read
The wheel options strategy has been a good way to buy stocks on my buy list. Although I am willing to potentially own the stock, I'd obviously rather do so at a lower price. In addition, I don't want to tie up that much capital. Using options instead allows me to generate income while defining a price I'd be willing to own the stock.
Many stocks have gone down given the recent pullback in late 2018. As such, I want to wait for companies to report earnings before placing these trades. The combination has created a good opportunity to leverage the wheel options strategy for two reasons.
First, the recent volatility increased options premium. This means I generate more income at potentially further out of the money strikes. Second, there's a chance these stocks could go much lower if this pullback is not yet over. Waiting for earnings provides new which might mitigate downside risk.
So even though I'm willing to own these stocks, I'd rather collect some premium first. Let's review some recent wheel options trades as well as future trades.
Recent wheel options trades
JPM
Last week JPM reported earnings. Results were mixed, but not necessarily bad. Given the recent pullback it actually became good news.
The morning of earnings I sold the $98 puts for $0.82. By the end of the day the stock had moved above $101. The puts were just $0.22. I would've been willing to own JPM under $98. The stock seems to have support in the low $90s. They also pay a 4% dividend. Any time JPM dips below $100, I will sell more puts.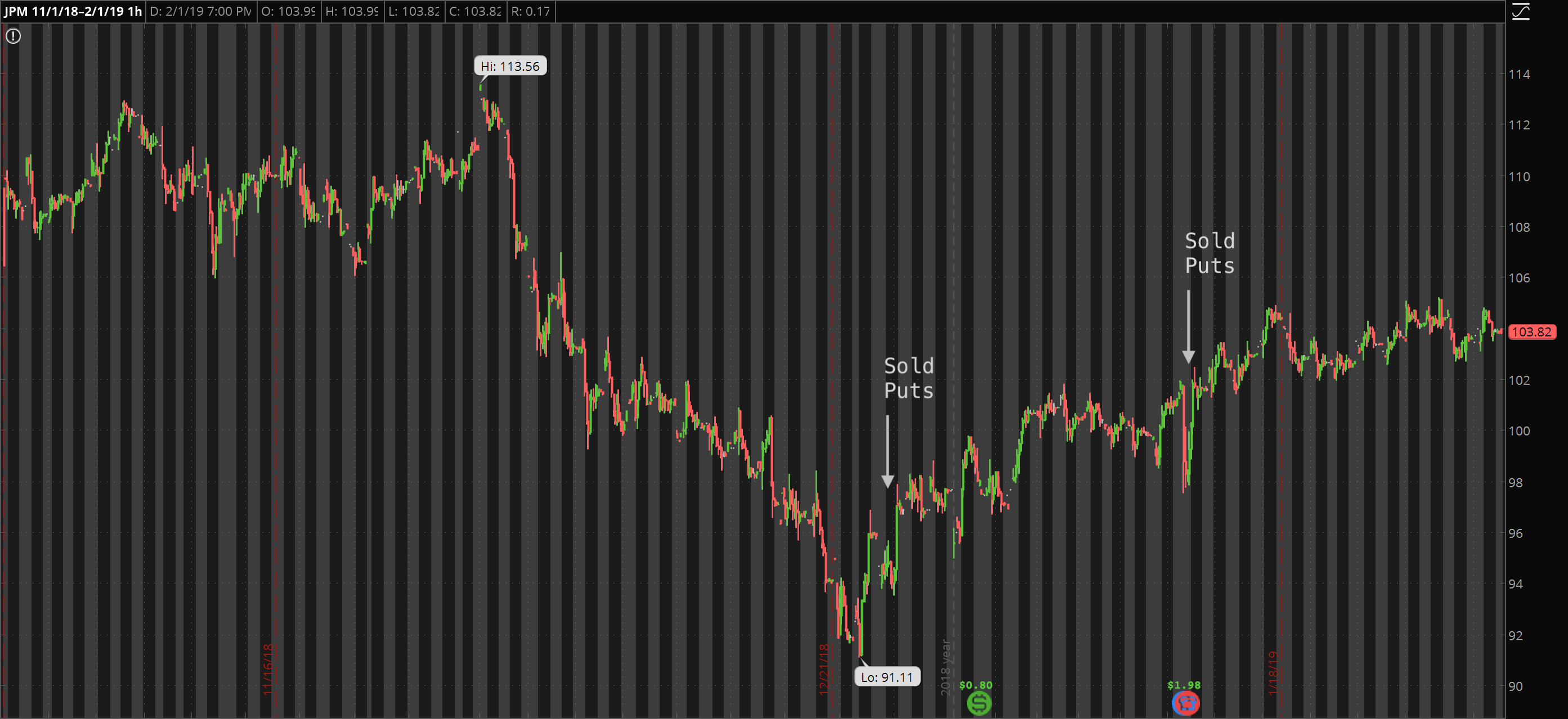 WDC
WDC is another company I have been nibbling on. I actually bought a few shares outright last fall at $44. Instead of buying more, I adopted the wheel strategy. Any time WDC dipped below $40, I sold puts. Each time expiring worthless. I lowed my cost basis for the current shares to $41.50. Even though I was never assigned the stock, I do own it. With WDC above $47, I have begun selling calls against the long stock position to continue the wheel strategy.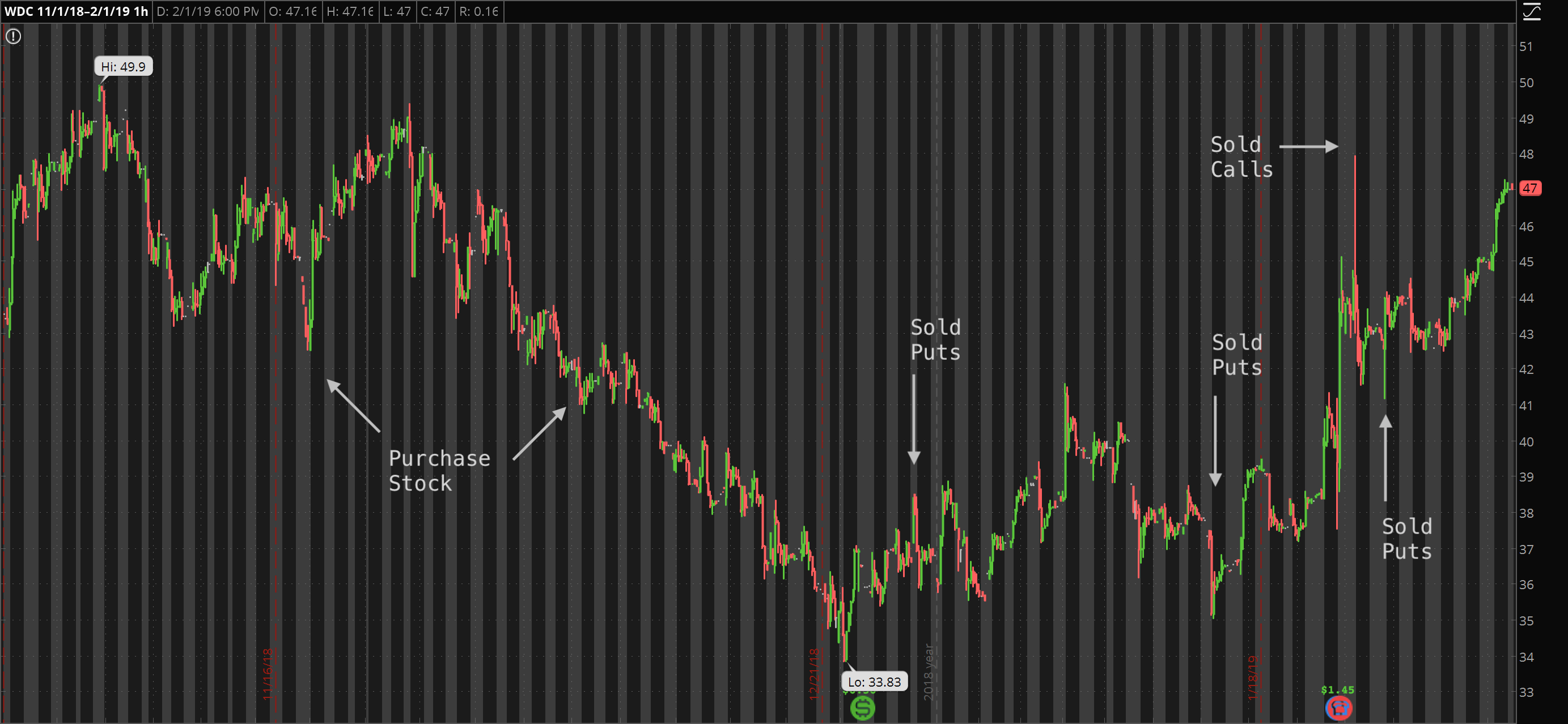 SQ
Finally, SQ is one of my favorite. In 2018, I took SQ from $35 to $64. Admittedly I felt a little left out when they continued on to $90. I have been waiting to get back in. When the SQ effectively round-tripped back to $60 I started selling calls. I have been trailing the price up near $70. The recent downgrade made me think I might be assigned, but the stock closed the week above $70. I will continue using the wheel strategy, however will likely pause during earnings since SQ is a mover.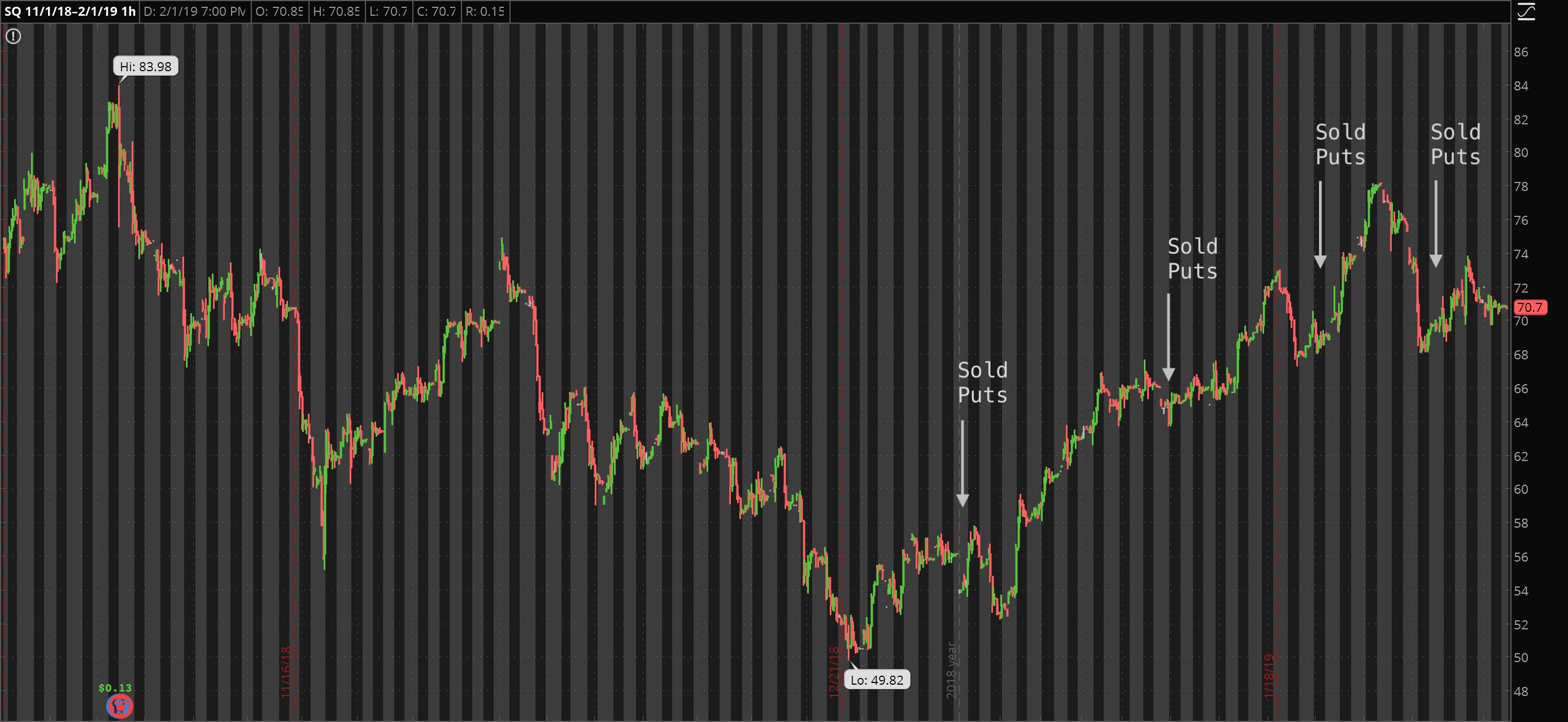 Future wheel options trades
I've found this to be a good strategy for stocks on your buy list that have not yet participated in the rebound but have reported earnings.
List of stocks I am watching for the wheel options strategy: DWDP, GE, INTC, PFE, SBUX, VZ, WM. It's important to note that many of these stocks pay a decent dividend. This is often a key characteristic of stocks to trade using the wheel strategy as dividend paying stocks tend to behave more stably.
Find this interesting? Follow me on Twitter for even tips and trades.